The images and designs on this website are not for free. If you want to use them for your project, please contact us first!
---
Chinatown
17/09/2021
meanwhile in chinatown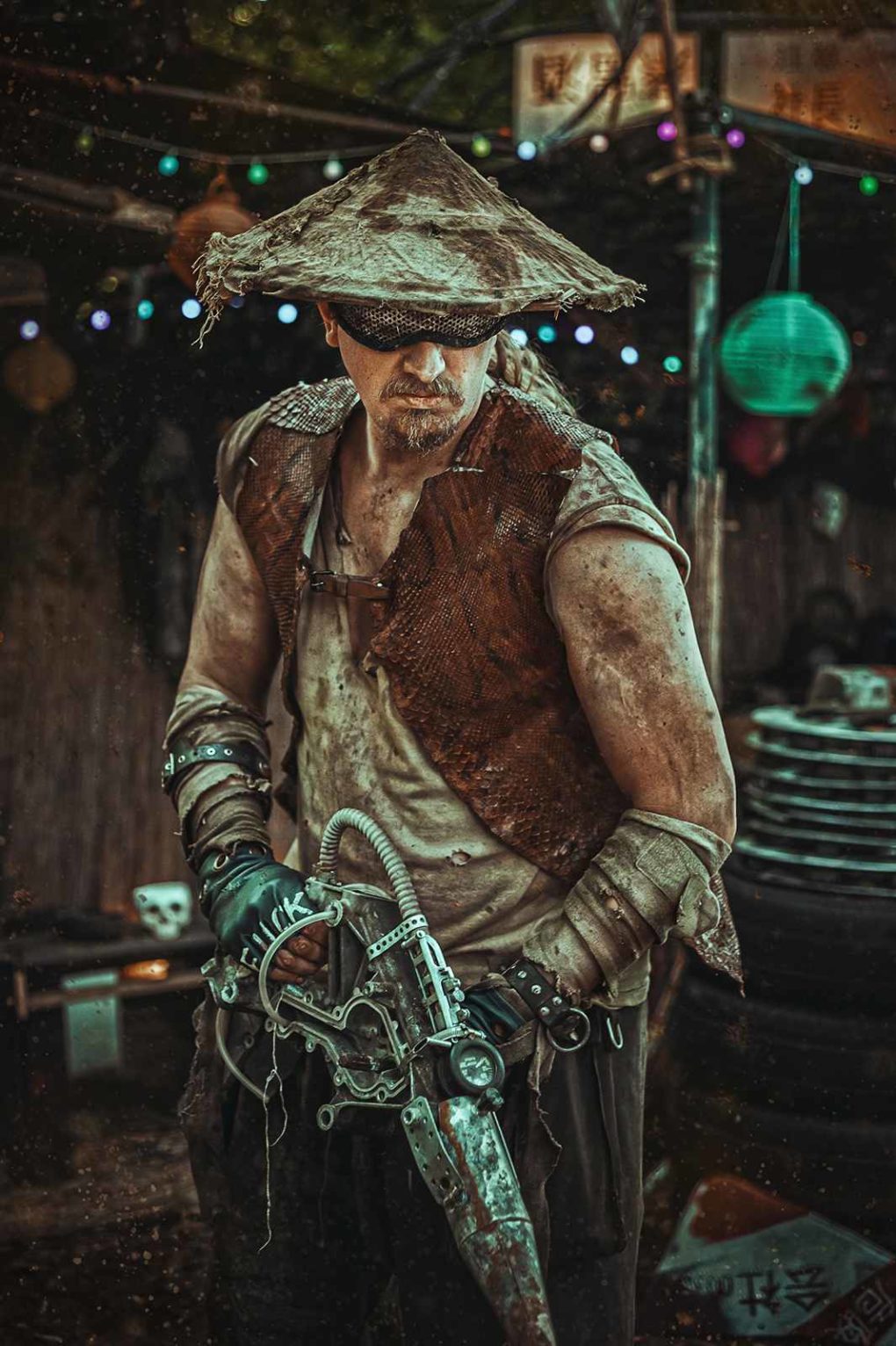 Cyborg
13/03/2021
The future is now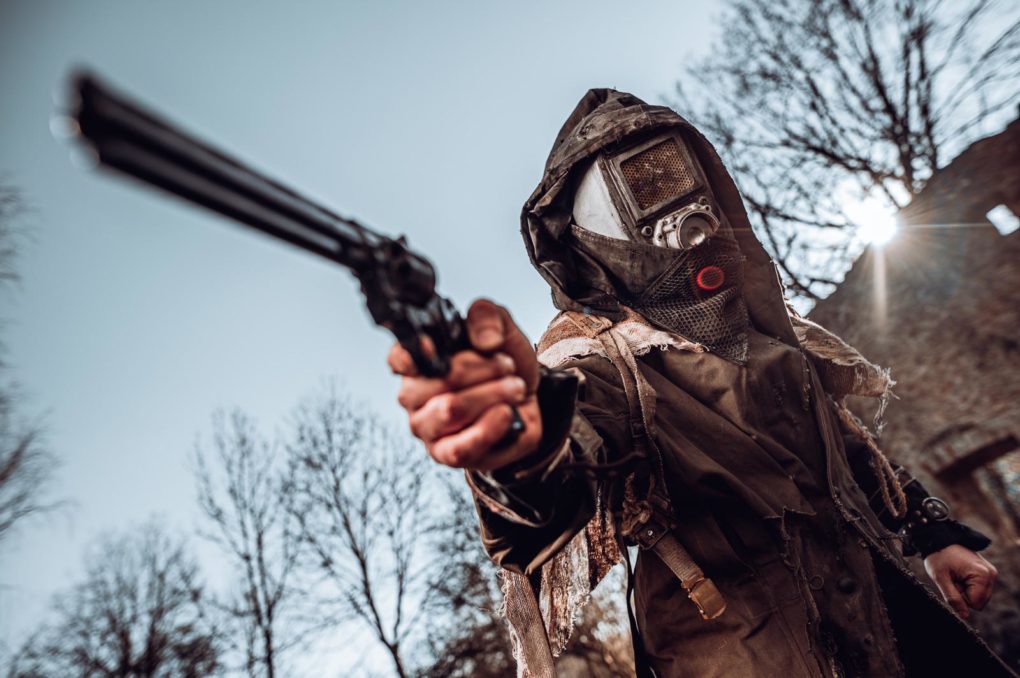 Endzeit-Soldat
10/09/2018
KOMBAT costume
10/07/2018
ROUND 1 – FIGHT!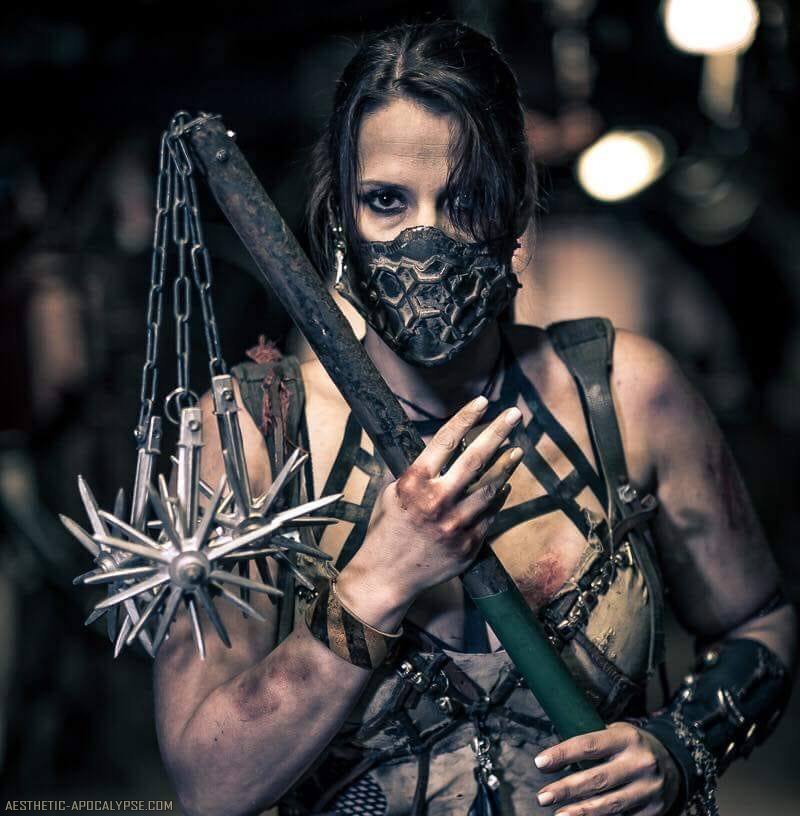 We don't want to call this cosplay, This  costume is a bit inspired by MORTAL KOMBAT.  Maybe this would work as post-apocalyptic alternate costume for a MK female character.
explorer jacket
16/04/2018
To you it's just rocks and stones
but we used to call this home.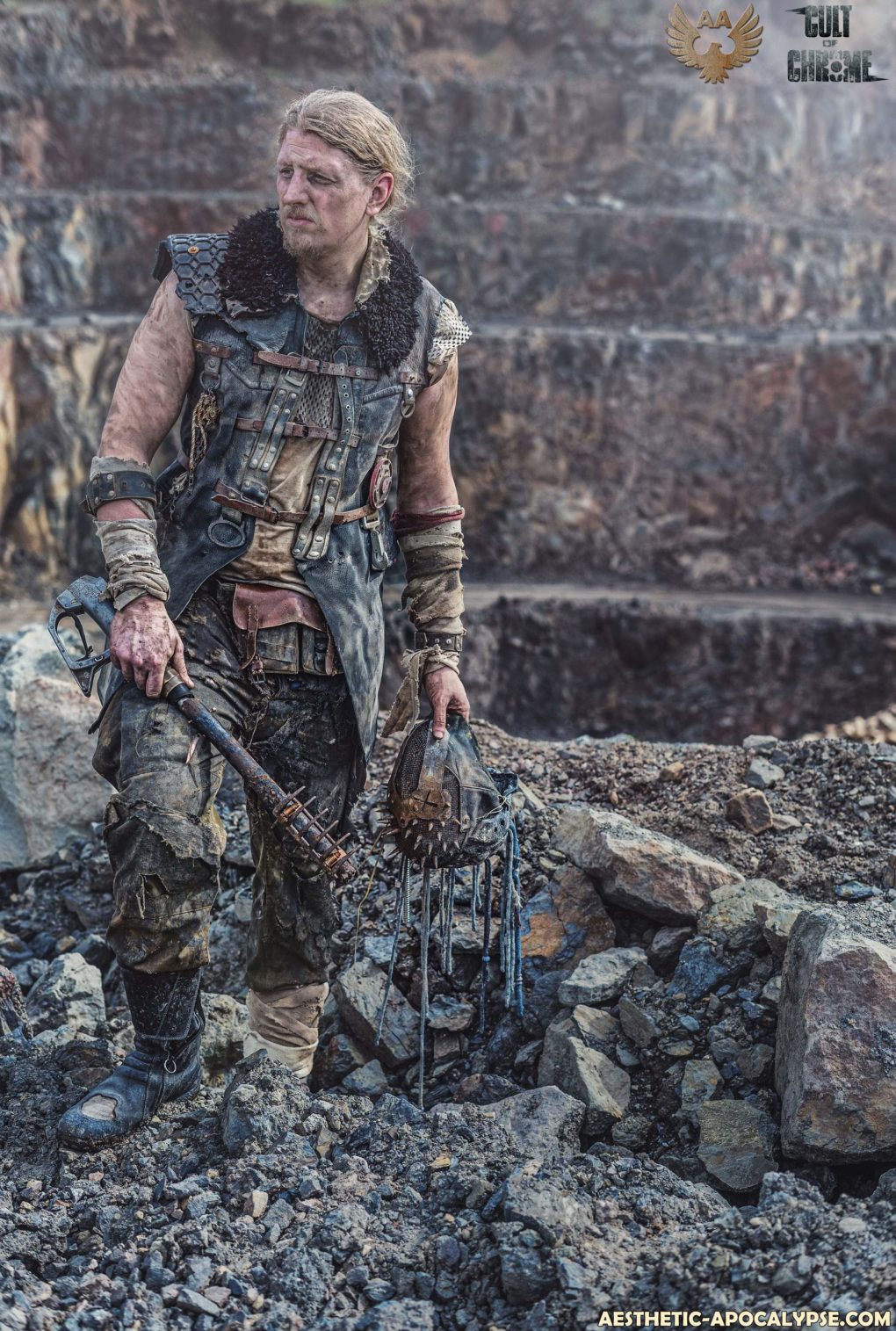 Shocklance Soldier
27/01/2018
Someone is watching over you.
Always.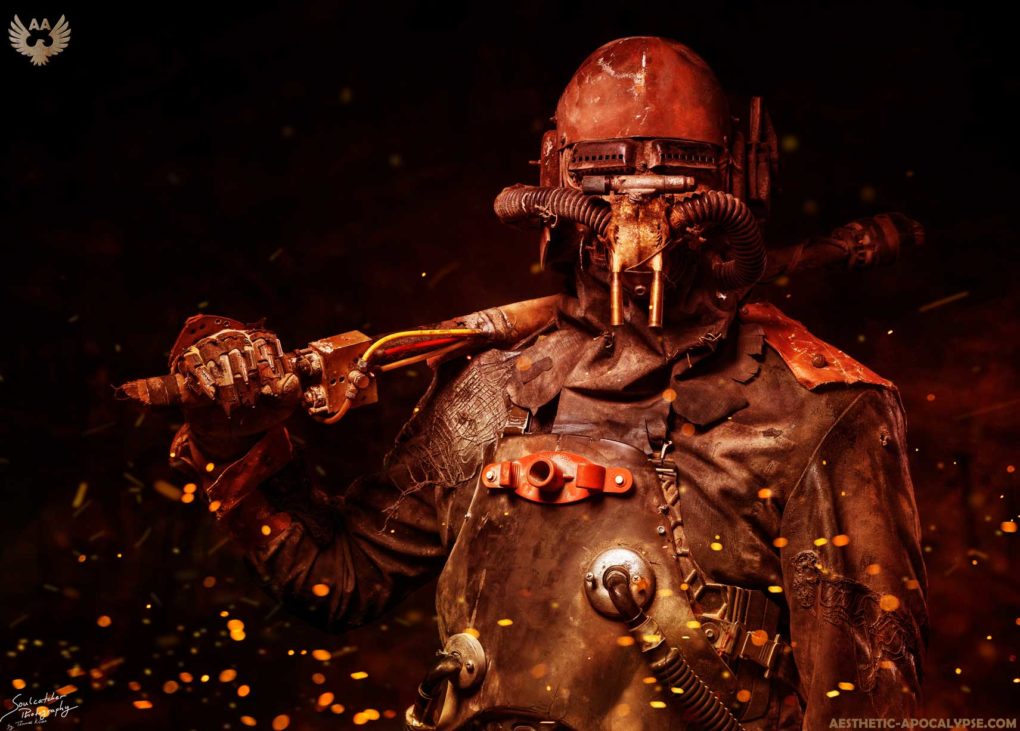 wasteland veteran
13/11/2016
The Wasteland Veteran will supply all your needs…
If all your needs have something to do with the killing business.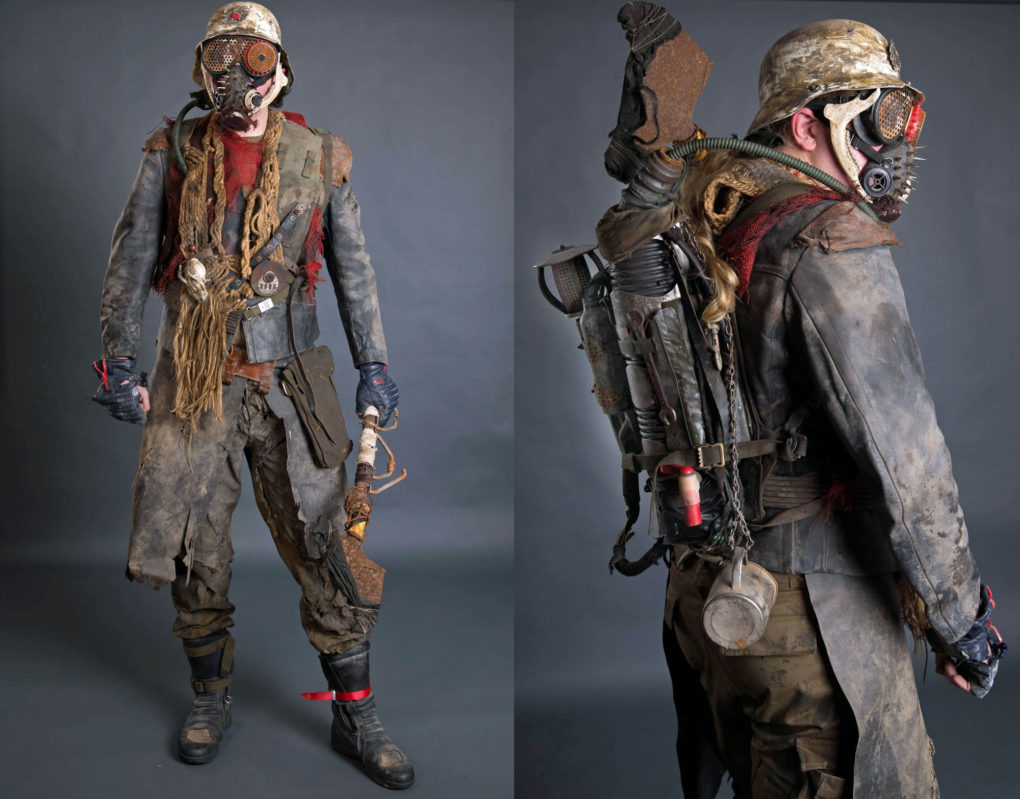 Bounty Hunters
03/09/2016
At your service.
Killing is a matter of honour for us!

Dust Phantom
28/08/2016
The Dust Phantom is definitely not going
to cut your hedge with this sword !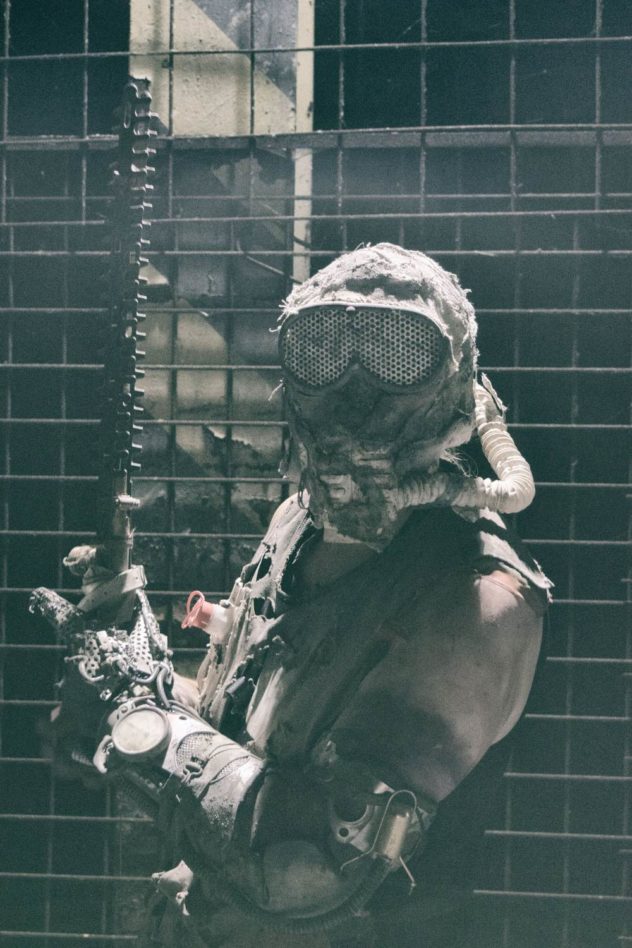 the professor
27/06/2016
He is smart, he is badass
he is the Professor!
This new costume is a bit Rorschach (Watchmen) and Aiden Pearce (Watch Dogs) inspired. I also think it would fit into a cyberpunk setting.
I will add information about the crafting process sooner or later…or later
The Professor – Postapocalyptic costumeShh! The Professor is taking a
deep-dive into the security system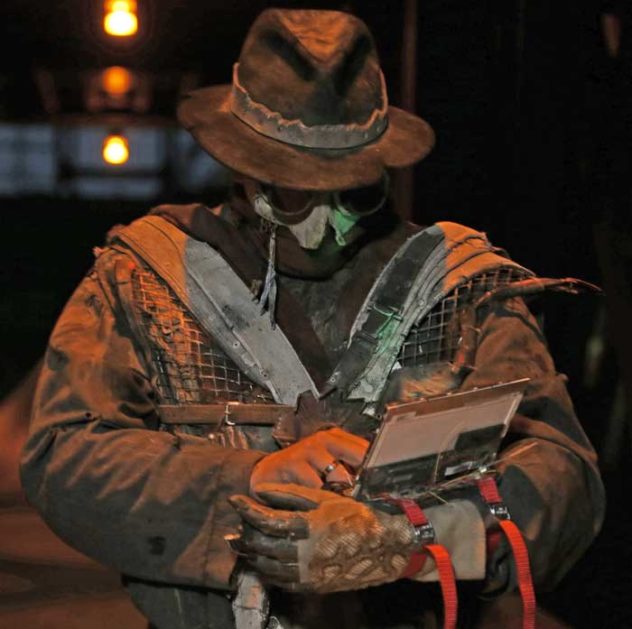 Desert Lurker
22/04/2016
Here is Version 1 of my "Desert Lurker" postapocalyptic character costume. (Endzeit Kostüm)
This one is a mean wasteland raider. Just waiting like a trap door spider
in the desert ground to attack you with a hockey stick, blaster pistol
or by ramming his spiky helmet into your guts. Ouch, what a mess !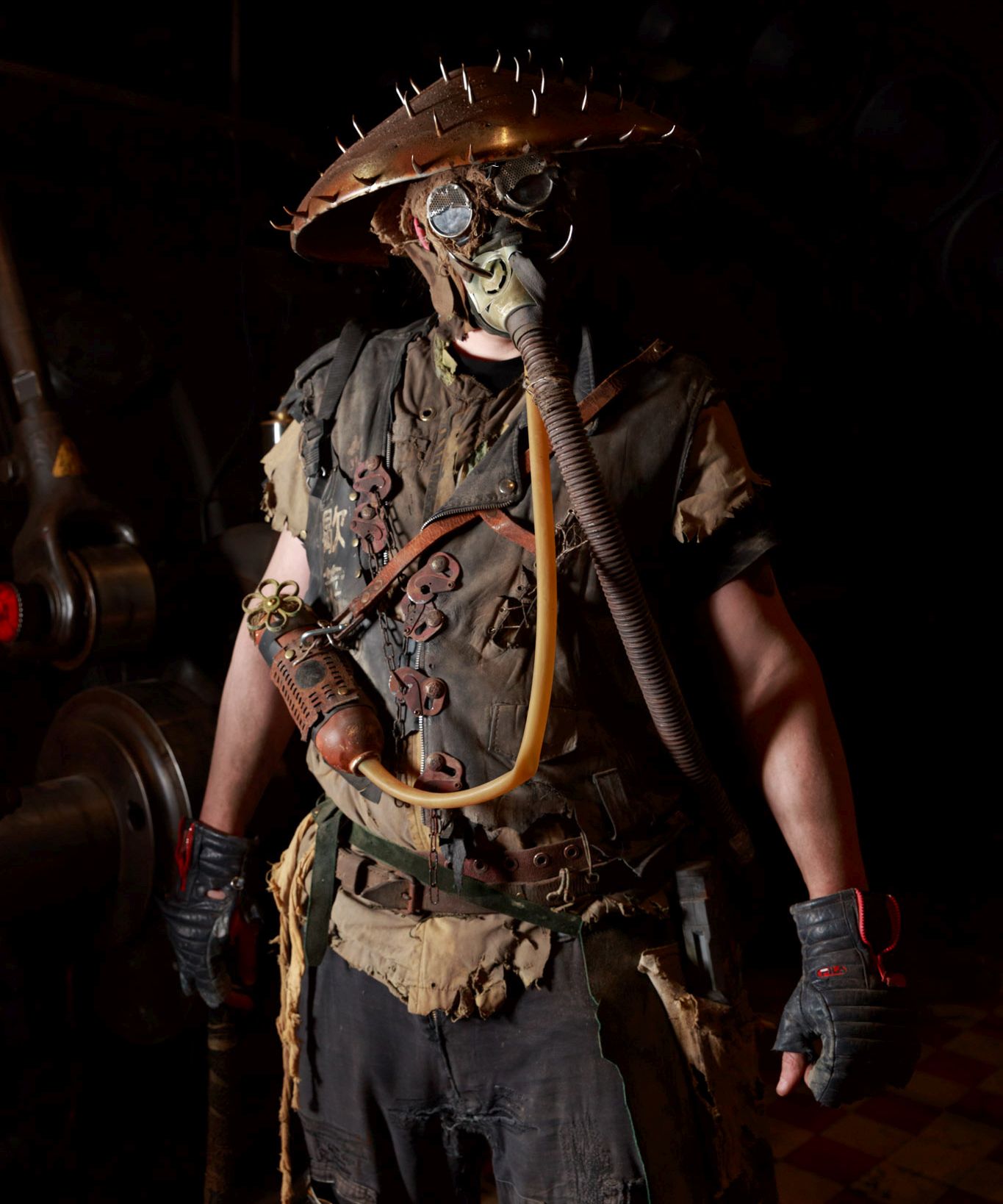 Desert Lurker – Postapocalyptic Wasteland RaiderThanks a lot to Charakterwert.de for the awesome shot.
If you like it, leave a comment here or at deviant art or drop us a line here!
Here are some pictures of the crafting process
I intended to document every step making this costume. Unfortunately I didn't 🙂
But i have some pictures and information about stuff I used.
a lampshade i found in my fathers garden shed. This is aluminium, easy to drill. At the time the photo was shot it had no holding. It is very rickety.
NVA dust protection mask from ebay, i later replaced the filter by the hose.
parka jacket, I got from ebay. I bleeched it, frazzled it and treated it with ash, some acrylic paint, black special wax and baby oil.
an old synthetic leather biker jacket, which never fitted properly, so i decided to kill it. This is not the original picture but it's close. For the dusty look, I used ash and clear paint spray to fix the ash.
a Bundeswehr hipcord, i got from ebay. These are cool and cheap. You can really do a lot with them for postapocalyptic costumes. Keep your eyes open and you will find them in other artists costumes. I used it as part of the belt.
The classic welder's goggles with transparent glasses. Used in almost every steampunk costume :). You can get them in several online shops.
Some nice airplane seat belt locks, I got from ebay. They were too shiny, so i treated them with some rust spray paint and acrylic paint to give them a touch of red to put some contrast to the costume.
About 30 spike blanks, also from ebay. I think i cannot wear the helmet on any con with these attached. A way too dangerous. They are really spiky. I also got two larger ones attached to the mask.
A really cool part from a scuba gear, i got from the flea marked. I tried a lot around with this as you can see on the in-progress pictures, finally I just used a small part where the bottle is attached to. I also painted with a template and white acrylic paint some chinese symbols on it. This should fit to the asia theme like the helmet. I wrote "Game Over!" to it which should fit to the hockey stick weapon. I Hope the translation is right. I am so happy that i turned later and asked for the price. 3 € for this treasure. I am sure that i can use parts of it for other custumes.
I don't have a picture of the original. Just one where I tried to do some kind of a backpack, which really sucked.
A very old belt i got from the flea marked. Must have been laying around in a barn for decades. No more work needed on this. It has a very nice patina and the buckle is rusty. Price: 1€ 🙂
A green beer leatherpinafore . I think this was a gift some years ago. I attached a bag as a gunholster.
A shemag from onlineshop asmc. These are very handy for postapocalyptic costumes. They are cheap and easy to distress. I used it for the mask.
A zombie strike crossfire bow nerf gun. You can see the light modding on the last of the in-progress pictures.
An old motorcycle strap, also from ebay. I used it to "hold" the "oxygen bottle".
A fieldhockey stick, nicely distressed. No more work to do. You can just see the handle on the photo.
I love these original 80's Fila skiing gloves. I think my father used to wear them while he was teaching me to ski. I cut off the fingers. Sorry dad !
Some scrap parts from the junkyard, garage, …
The Tooth Fairy – Postapocalyptic Character Costume
20/04/2016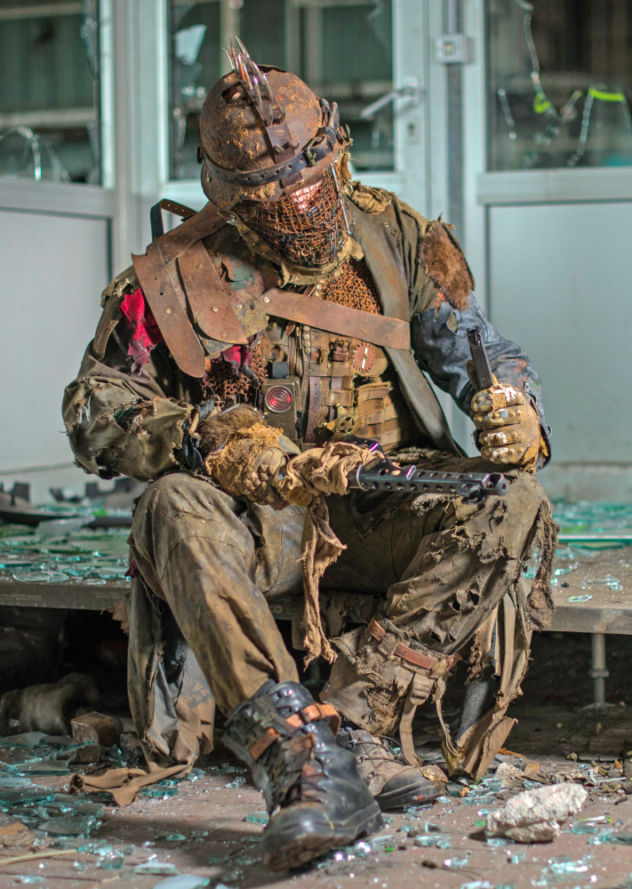 Even if mankind is on it's knees, the Tooth Fairy will stand and defend what's left!
I played this character on the 2016 Larp "The Miner I".
For this Postapocalyptic Wastelander Costume I used:
Very rusty M42 Wehrmacht Stahlhelm
Beige Trenchcoat
Green Tactical Vest
Beige Bundeswehr T-Shirt
Grey Bundeswehr gloves
Black Bundeswehr boots
I will give you some detailed information about the parts and the distressing techniques soon !
Merken
Merken
Merken
Merken
Merken
Merken
Merken
Merken
Merken
Merken